2953 Delaware Avenue
Santa Monica, CA 90404
(310) 264-1664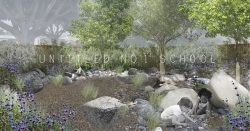 ---
GBC 2019-2022
Recognized as a 2019 USGBC LEED Gold rated building, Untitled No. 1 is a non-profit, nature-based, multi-lingual and sustainable preschool/pre-K/TK/K. "As children learn best in diverse settings, Untitled No.1 admits families evenly spread across income levels and provides scholarships to achieve this balance."
Untitled No. 1 core values foster:
A culture of care and cooperation across socio-economic class
Child-centered spaces for provocation, inquiry, and innovation
Socially active children and school, engaged with the community
Untitled No. 1 strives to be zero waste by separating and collecting all recyclable and compostable materials. An onsite composting tumbler unit reduces the organics' output to the green bin collected by the City of Santa Monica's R3 services. To support and close the recycling loop, Untitled No. 1 procures FSC certified copy paper containing post-consumer recycled waste. To the degree possible, documents are sent electronically and bank statements and utility bills are viewed online. The only printer onsite is default set for two-sided printing.
Untitled No. 1's above and beyond energy conservation measures include installing two solar panels that supply 40% of their total energy needs, and opting to purchase the 100% renewable option via the Clean Power Alliance (CPA), a community choice energy program that delivers renewable energy to customers across Southern California.
Water conservation efforts include highest efficiency faucet aerators on hand sinks and e-faucets at the children's bathroom, saving over 1,000 gallons of water annually. Low maintenance California-friendly plantings are fed primarily by rain water collected in a rain barrel avoiding the need for an irrigation system. Hand-watering of the school's edible garden is accomplished with the children, occasionally using left overs collected from water-play.
Untitled No. 1 installed an electric vehicle charger for staff use, and during non-operating hours the charger is shared with nearby residents free of charge.