2953 Delaware Avenue
Santa Monica, CA 90404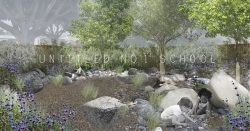 ---
GBC 2023-2026
Untitled No. 1 is a full-day nature-based community preschool for families of all income levels. The building is rated USGBC LEED Gold, the first WELL certified preschool in the world, and now the first school in Santa Monica to achieve a Green Certification at the highest Innovator Tier level recognized by the California Green Business Network (CAGBN).
Untitled No. 1 strives for zero waste by reusing various household items for play such as containers and detergent scoops. They separate materials for recycling and composting. An onsite tumbler unit reduces the organics' output to the green bin collected by the City of Santa Monica's R3 services.
Untitled No. 1 was built around an existing persimmon tree which the children use today as their special 'climbing tree.' Founder, Laila Taslimi, prioritizes building with nature when renovating a space. They planted various other trees which welcome bird varieties that often build nests for the children to gleefully observe.
Water conservation efforts include highest efficiency faucet aerators on hand sinks and e-faucets in the children's bathroom, saving over 1,000 gallons of water annually. Low maintenance California-friendly plantings are fed partially by rain water collected in a rain barrel avoiding the need for an irrigation system. Hand-watering of the school's edible garden is accomplished with the children. Untitled No. 1 also taps community members as garden volunteers and values strong partnerships with local groups.
Untitled No. 1's energy conservation measures include installing two solar panels that supply 40% of their total energy use, and opting to purchase the 100% renewable option via the Clean Power Alliance (CPA), a community choice energy program that delivers renewable energy to SoCal customers. They installed an EV charger for staff use, and during non-operating hours the charger is shared with nearby residents free of charge.