1515 Ocean Avenue
Santa Monica, CA 90405
(310) 458-1515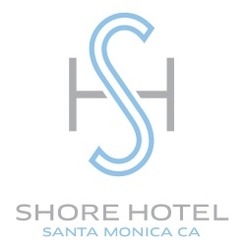 ---
GBC 2023-2026
Shore Hotel is a bright and airy space with eco-conscious accommodations and modern amenities, located just steps from the famous Santa Monica Pier. Every aspect of the hotel has been designed to reduce the consumption of natural resources like procurement of local recycled materials and reuse of salvaged ones from the pre-existing site.
More than 75% of Shore's roof surface is covered in solar-reflecting material to reduce heat islands. All guest rooms have balconies with sliding glass doors to allow for optimal ocean views, natural ventilation, and thermal comfort. Each guest room has smart sensors that turn on HVAC only when they are occupied. In addition, HVAC automatically shuts off when the sliding doors are opened. These measures along with several others, help the Shore exceed California minimum energy performance by 21%.
Carpets throughout the hotel are certified by Green Guard, guaranteeing they meet strict chemical and particle emission limits, contributing to healthier indoor air. Lobby chairs are upholstered with 100% pre-consumer recycled materials.
In addition to their 3 bin system for blue (commingled materials), green (organics) and black carts, Shore's zero waste initiatives inspired them to eliminate complimentary water bottles from the guestrooms. Guests can refill their water bottles at water dispensers located in the lobby area. Room amenities like soap and shampoo are provided in large pump dispensers that are also refilled. Spent towels are turned into cleaning rags and sheets are donated to homeless or animal shelters.
During their stay, guests can choose to take advantage of the special Green Clean program and receive a 10 daily room credit in exchange for forgoing cleaning services. To support Santa Monica's GoSaMo Transportation Demand Management goals, Shore provides several EV recharge ports for visitors and employees.