1515 Ocean Avenue
Santa Monica, CA 90405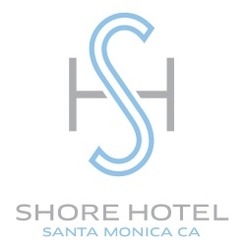 ---
GBC 2018-2021
Shore Hotel is a LEED Gold certified hotel blending inspired modern design with truly eco-conscious practices all in a spectacular beachside setting. Solar panels generate enough energy to heat the onsite pool. More than 75% of their roof surface is covered in Solar Reflecting material to reduce heat load into the hotel from the sun. Carpets throughout the hotel are certified by Green Guard, guaranteeing they meet strict chemical and particle emission limits, which contribute to the creation of healthier interiors. The hotel rooms and hallways receive tons of natural sunlight throughout the many windows. Each guest room is stocked with fair trade coffee and a recycle bin.
Shore Hotel voluntarily participates in SoCal Edison's Demand Response program – so that during instances when demand exceeds supply, or when the electrical system is constrained, 50% of their parking garage, corridor, and fan coils in HVAC (heating, ventilation and cooling) systems turn off to send energy back to the grid. In addition, RFID hotel key cards turn lights and HVAC only when rooms are occupied. When guests vacate rooms, lights and HVAC automatically shut off. Shore Hotel zero waste efforts include donating soap and shampoo products from guest rooms to Clean the World - diverting over 500 lbs of waste from landfill annually. Old guest towels are turned into cleaning rags or donated to Operation Blankets of Love to comfort homeless animals in shelters. Guests can request Shore Hotel Green Clean program whereby guest receives $10.00 per night when linens and towels are not cleaned, saving chemicals, water, energy and gas usage.
To support Santa Monica's mobility goals, Shore Hotel provides an NRG electric charging station and parking for alternative fueled vehicles like hybrids. To incentivize employees to rideshare, they pay 100% for bus passes.