829 Broadway
Santa Monica, CA 90401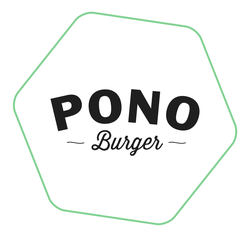 ---
GBC 2016-18
In Hawaiian, "pono" means "to do things the right way." For Chef Makani of Pono Burger, that translates to fresh, never frozen organic beef from pasture raised, grass-fed cows are raised without hormones or antibiotics. Pono Burger sources organic ingredients from local farmer's markets including potatoes for their fresh cut organic french fries. They cook everything fresh to order.
"What we take into our bodies becomes part of us," says Executive Chef Makani. "That's why we source our ingredients only from small, local family farms that care deeply about the quality of their products and the global impacts of their methods. First you taste the difference, then you feel the difference."
Environmental company-wide practices include training the staff on the materials acceptable for recycling in the kitchen, and procuring office paper, menus and other restaurant goods containing post-consumer content recycled. To close the sustainability loop, they recycle all paper goods from service materials to receipts in the blue bin.
To do their part for water conservation in-house, Pono Burger installed waterless urinals, high efficient faucet aerators. In the outside area surrounding the restaurant, they planted drought resistant succulents, and California native species. Patrons of Pono Burger are encouraged to bring their own bag or opt out of a take-out bag, with a bag discount program. In order to cut down on the use of toxins for cleaning, Pono Burger makes their own organic cleaning solutions that are used in their kitchen and dining room. Since all the ingredients are procured locally, Pono Burger reduces their carbon footprint by reducing travelling time.