3030 Pico Blvd.
Santa Monica, CA 90405
(310) 450-9017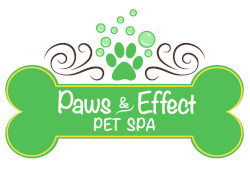 ---
GBC 2019-2022
Paws & Effect Pet Spa provides full-service grooming and pet retail. Uniquely focused on treating pets as family members, they are aligned with the philosophy of placing a priority on each pet's health and well-being. They have a great blend of compassionate and skillful experts, combined with a styling salon that is tranquil and clean, with special treatments and adornments. Many of the retail offerings are organic, including products with biodegradable materials, less packaging and natural ingredients. They also strive to limit exposure to harmful chemicals to the animals and staff.
Paws & Effect Pet Spa's mission is to have as little impact on the earth as possible, by providing excellent services and products that do not harm the environment or animals in our care, bringing joy to them and their families.
After establishing a Green Team, they achieved certification within six months. To support Santa Monica's Climate Action & Adaptation Plan, they opted in for the Clean Power Alliance's (CPA) 100% Green Power tier and performed a comprehensive water and energy efficiency retrofit. In addition, Paws & Effect signed up for Edison's online tools to track water and energy usage in order to respond as soon as sudden rises occur.
To provide cutting edge service, Paws & Effect offers custom hairstyling, appointment booking online, curbside valet and text reminders. They work closely with local partners to support to animal related causes. Paws & Effect was voted a 2019 finalist in the Most Loved Pet Business category for the Buy Local Santa Monica campaign.