1447 Ocean Avenue
Santa Monica, CA 90401
(310) 458-4888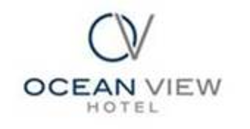 ---
GBC 2021-2024
The beautifully renovated Ocean View Hotel, located opposite Palisades Park, is less than a ten minute walk from Santa Monica Pier and the 3rd Street Promenade. The 67 rooms offer mini fridges, and/or balconies with Pacific Ocean or interior courtyard views. Ocean View features energy & water efficiency upgrades, and green rated office, janitorial, and cleaning supplies.
Energy and Water Conservation
LED lighting and 47 occupancy sensors installed.
Installed a high efficiency device on each of the 67 showerheads to reduce the flow rate to meet the certification criteria.
In room climate control reduces energy costs by 35-45%.
Drought-resistant plants used in landscaping
Pollution Prevention
83% (5 of 6) daily use Waxie Green cleaners are green certified by ECOLOGO .
Disinfectants are peroxide-based and EPA List N rated to kill the Coronavirus/SARS when used according to the label directions.
Eliminated procurement of virgin paper products - committed to sourcing paper products (office and janitorial) containing post-consumer recycled content and/or sustainably forested.
Offer public transportation and carpool credit incentives for employees.
Waste Reduction
Staff break room features a zero waste station (trash, recycling, compost).
Replaced plastic disposable utensils with ocean friendly wood utensils.
Dyson hand dryer in public restroom minimizes the use of paper towels.
Partner with Standard Textile™, a company that uses eco-friendly sourcing for bedding material and recycles spent bedding.
Rooms include refillable toiletries; shampoo, conditioner and body wash.
Community
Supports local nonprofit, Heal the Bay, by selling fundraising merchandise made from recycled plastic recovered from beach clean ups.