2218 Main Street, 2nd Floor
Santa Monica, CA 90405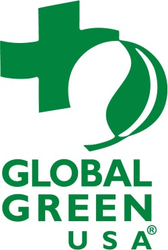 ---
GBC 2015-17
Global Green USA is the American affiliate of Green Cross International, founded by President Gorbachev. Their mission is to foster a global value shift toward a sustainable and secure future. Global Green USA has advanced smart solutions for climate change that improves lives and protects our planet. Since 1995, Global Green USA has influenced more than $20 billion dollars' worth of building construction by encouraging the integration of green building and sustainability practices.
Their green office incorporates carpet tiles that contain post-consumer recycled content (PCRC) by Interface and zero-VOC paint on the walls. Their translucent plexi glass doors and walls are made of PCRC by Element Designs. Global Greens in-house sustainability practices include diverting approximately 75% of unwanted materials from landfill through reducing, reusing and recycling as much as possible. They stock reusable dishes, silverware, glasses and even commuter mugs for employees to use when purchasing local coffee and hot drinks from various neighboring Green Certified cafes and restaurants on Main Street.
All Global Green events, including their Pre-Oscar party and Millennium Awards, are sustainable zero waste events. They also close the recycling loop with sustainable office purchasing like giving preference to the highest post-consumer content available across the board for paper products from notepads to tissue paper (usually 80 – 100%). Eco-minded receptionist, Sharon Williams, facilitates zero waste staff lunches on the beach by having each staff bring a set of reusables to eat with. Office is cleaned with Staples Sustainable Earth cleaners ordered online. Global Green's initiatives focus on sustainable solutions not just for our planet--but for people.