1520 2nd Street
Santa Monica, CA 90401
(310) 820-9797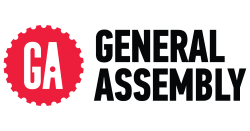 ---
GBC 2017-19
General Assembly (GA) is a pioneer in education and career transformation, specializing in today's most in-demand skills. They began as a co-working space in 2011 and have since grown into a global learning experience with campuses in 20 cities and over 35,000 graduates worldwide providing award-winning, dynamic training for training, staffing, and career transitions. GA's Hybrid programs for data science allow their instructors to teach classes to multiple locations at a time.
All General Assembly-Santa Monica staff receives training on new Green Procedures like materials separation and bringing in, using and washing the durable kitchenware provided. GA incorporates an Environmental Policy for employee training and on-boarding. Their comprehensive Sustainable Purchasing guidelines require all office and janitorial paper products to contain post-consumer recycled content when available from Staples Sustainable Earth. Green cleaners include Cradle to Cradle certified Method dishwasher tablets, hand wash and dish soap.
The Green Business Program requires an energy and water assessment to be performed by City Sustainability Analysts. After receiving a FREE comprehensive lighting retrofit through SoCal Edison's Direct Install program, comprising of replacing various incandescent flood and incandescent lamps with LED alternatives, GA's average daily energy use reduced by 52%. Comparing to previous years, this adds up to a 1915 kWh or approximately $600 monthly savings off their bill. Energy savings are estimated to total over $7,000 annually. GA also supports 100% renewable energy by opting into SoCal Edison's green tariff program. After Campus Operations Leader, Brian Strader, fixed a bad plumbing leak by installing flex line flow restrictors, GA's water bill was cut over 50%.
General Assembly's Los Angeles Regional Director, John Madigan, remarked "The savings speak for themselves. Becoming a Green Certified Business has been a great business decision for General Assembly."
"THANK YOU for all of your help, guidance, and support. Thanks to you, becoming a certified green business has been a great business decision for us - the savings speak for themselves!"
John Madigan
Regional Director, General Assembly