1715 14th Stret
Santa Monica, CA 90404
(310) 453-1511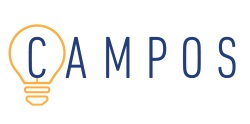 ---
GBC 2017-19
Since 1993 Campos has created meaningful experiences for human beings. On stages, sets, screens, and venues, they design experiences to tell stories creatively while embracing the brand's heart and soul. Simply put, they're experiential storytellers – there to help motivate, inspire, advocate, or educate an audience. Campos is certified minority owned - majority women owned – and now a Santa Monica certified green business. From the beginning, Campos outlined sustainable guidelines in their employee handbook, and incorporated green office strategies into staff meeting discussions. Communicating their green business strategies and successes to their staff and freelancers has been well received.
After qualifying for SoCal Edison's Direct Install Program, Campos replaced their inefficient lighting with T8 fluorescents, LEDs, and reflectors facility wide, resulting in an initial $50 savings with continued savings each month. Upon completing a waste assessment with Sustainable Works, and determining that recycle waste and food waste comprised of 75% of their output, they implemented an Organics program through Santa Monica's R3 division to turn their food waste in to commercial compost. They also received a recycle dumpster from the city. Campos staff politely declines disposable plastic ware when ordering food deliveries.
To show their love for conserving Santa Monica water, they retrofitted their staff kitchen with a new faucet and sink, replacing an older one that developed a small leak. A GE Energy Smart dishwasher cleans their plates, glasses and flatware with a minimal amount of energy and water. Like all invoices, staff reviews their water bill for accuracy and any red flags regarding unusual high usage. After receiving a free City of Santa Monica Sustainable Landscaping assessment with Water Efficiency experts, Campos shut off the irrigation system set to water 3 days per week. To do their part for water conservation, employees water the landscaped area by hand once per week and are happy to report the plants are doing fine with less water!
"Becoming a certified Green Business was a great experience. Everyone was on board from the start with expert guidance, support and easy to use tools. We addressed water usage, both inside and outside, got a handle on which cleaning products are both effective and friendly to the environment, and I think our biggest success came in upping our game in trash and recycling."
Lisa Gevov
Business Development, Campos Creative Works