445 Pacific Coast Hwy
Santa Monica, CA 90402
(310) 393-8282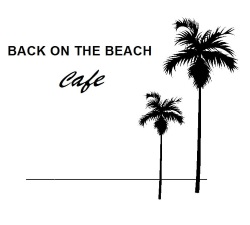 ---
GBC 2020-23
Back on the Beach Café is a leader in the green business community by offering local and seasonal cuisine while prioritizing sustainable procurement. Indoor & outdoor dining is available, along with catering services and event planning.
Back on the Beach Café has been striving to eliminate all plastics from to-go-ware products even prior to Santa Monica's revised Disposable Food Service Ware ordinance. For to-go, they procure hot beverage to-go lids made from a marine-degradable plant fiber lids in addition to containers made-in-the-USA containing 100% post-consumer content recycled materials. In addition to serving food and beverages in reusable dishware for indoor dining, they went the extra mile to replace disposable paper straws with reusable stainless steel straws.
Back on the Beach Café sources Mary's free range chicken from Pitman Family Farms located 250 miles away near Fresno, California grass-fed beef and cage-free eggs. The also source seasonal organic produce from the local Santa Monica Farmer's Market like carrots, kale, and onions Finley's Farms in Santa Inez, and citrus from Friend's Ranch located in Ojai. Organic lettuces, tomatoes and berries are procured during the peak harvest seasons. Back on the Beach Café regularly stocks organic cane sugar, teas and coffee.
Their procurement policy includes giving preference to highest percentage of post-consumer recycled content paper products from menus to paper towels. Back on the Beach diverts over 75% of their waste from landfill via Reducing, Reusing, and Recycling. They installed a paperless point of sale (POS) system that features hand held devices for staff to take orders and payment. Each employee drinks out of a reusable cup and lid during the day – eliminating the constant use of disposable cups. Back on the Beach composts food scrap via R3's commercial organics collection. In addition to ample natural light in the dining area, they performed a comprehensive LED lighting retrofit.