445 Pacific Coast Hwy
Santa Monica, CA 90401
(310) 393-8282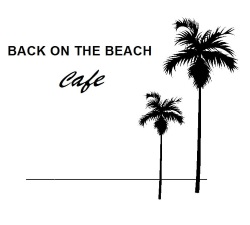 ---
GBC 2017-19
Nestled on a wide stretch of sandy beach, Back on the Beach Café offers meals featuring local and seasonal cuisine with breathtaking views of ocean, mountain, pier, and Catalina Island. Indoor & outdoor dining is available, along with catering services and event planning.
Back on the Beach Café prioritizes sustainable procurement throughout their operations when possible. They source Mary's organic free range chicken from Pitman Family Farms located 250 miles away near Fresno. In addition, they regularly purchase seasonal veggies, USDA certified organic eggs and coffee. Their procurement policy includes giving preference to highest percentage of post-consumer recycled content paper products from menus to paper towels. In addition to ample natural light in their dining area, they upgraded some T8 fluorescent tubes to LEDs. They worked with the City of Santa Monica to replace water-using urinals with a water-free alternative in the adjacent public restrooms– no flushing required!
Back on the Beach biggest green success is diverting over 70% of their waste from landfill via Reducing, Reusing, and Recycling. They stock bottle box containers made from 100% plastic bottles. Tables are set with reusable silverware, plates and placemats. Back on the Beach installed a paper-less point of sale (POS) system that features hand held devices for staff to take orders and payment. Each employee drinks out of a reusable cup and lid during the day – eliminating the constant use of disposable cups and lids. In addition to participating in City of Santa Monica's R3 co-mingled blue bin recycling program, Back on the Beach composts their food scraps and food soiled paper via R3's commercial organics collection.